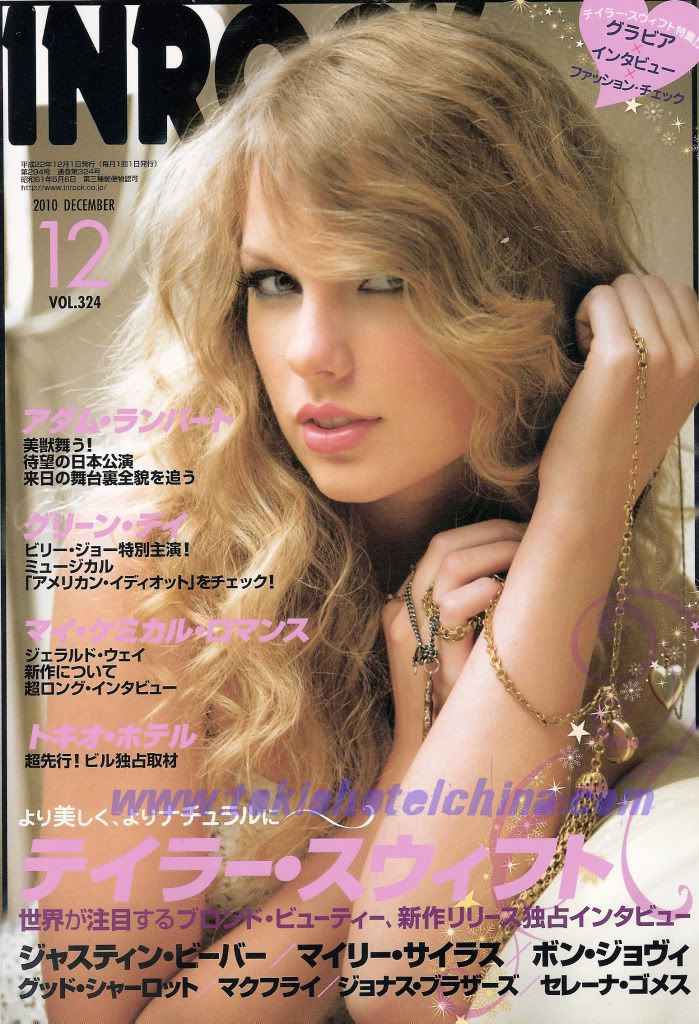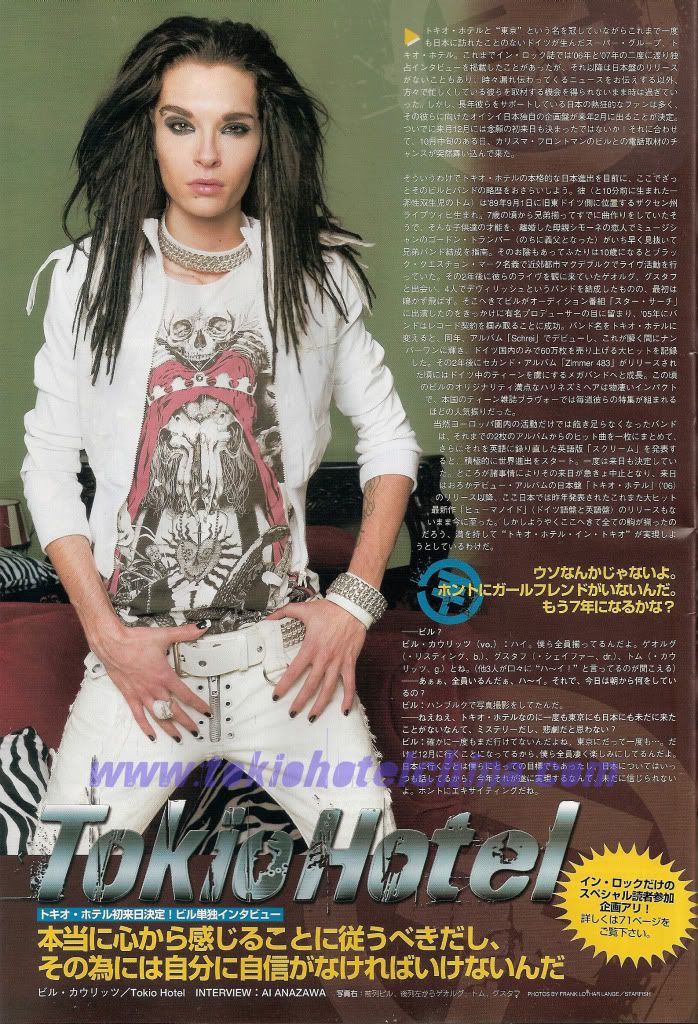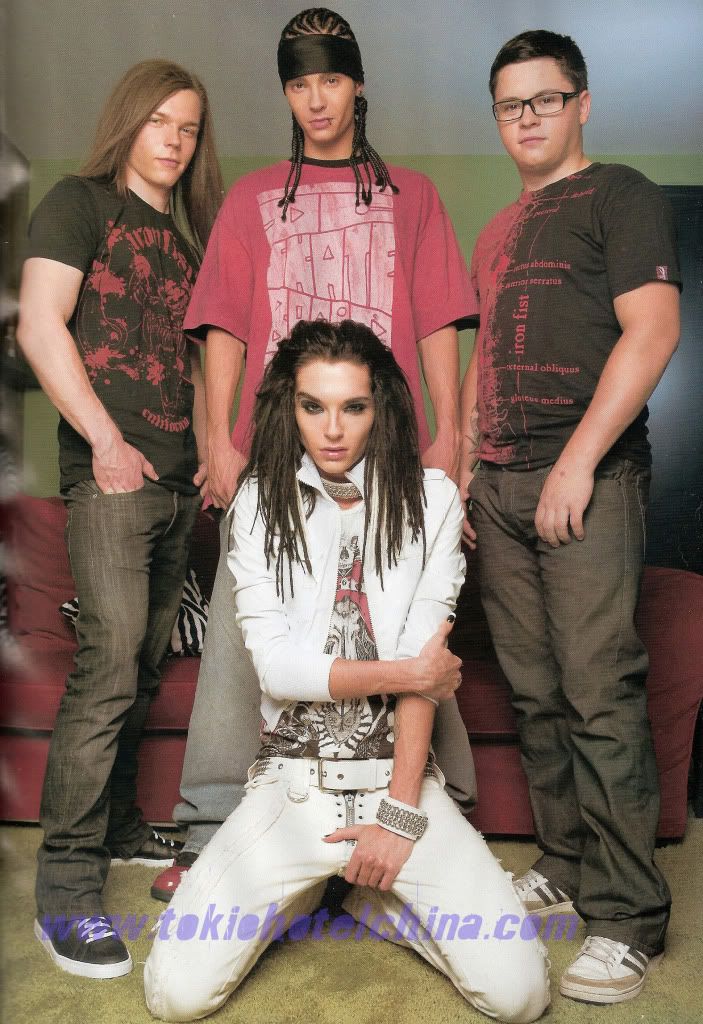 "you should do what you really want to do, therefore you should take full confidence in yourself."
Bill Kaulitz/Tokio Hotel Interviewer: AI ANAZAWA
Though the german super band Tokio Hotel names "Tokyo", they have never be in Japan before. Our InRock magazine claimed in 2006 and 2007 that we would publish a exclusive interview. But after then they didn't release the Japanese version album. So we just released news about them. Because they are always so busy, that it's very difficult for us to get a opportunity to interview them. However, there is a huge amount of crazy Japanese fans who support them all the time. And now a "delicious meal" is waiting for those fans - A japans special album will be launched in February next year. By the way, they decided that they will visit Japan in the next month (December). So that's how it is! Eventually, in the middle of October, we got the opportunity to have a telephone interview with the soul figure of the band – Bill.
Now let's have a brief review of the growth course of bill, as well as Tokio Hotel. Bill , and his twin brother Tom who was bored 10 minutes earlier, were bored in 1st Sep. 1989 , in Leipzig in eastern Germany. The twins began to compose at 7 years old. Gordon Trümper, who was the lover of their divorced mother at that time (and now he is their step-father), discovered their music talent and guided them to form a band. At 10 years old, Bill and Tom started to play live show near Magdeburg as Black Question Mark. 2 years later, in a small live gig, Georg and Gustav came to see their performance. And then they formed a band called DEVILISH, but the response is not so strong. Afterwards, Bill participated in a TV program "Star Search", and attracted a famous music producer's attention. In 2005,they sighed with Universal officially, and changed their name to "Tokio Hotel". In the same year, the first Album "Schrei" came out, and climbed to the top of the charts immediately, which sold out 600,000 only in Germany.
2 years later, they released their second album "Zimmer 483", attracted most of german teenage, and became a very famous band. Bill's unique hair-style has become a hit. Teenage magazine Bravo did a special edition for them almost every week.
However, Tokio Hotel are not satisfied with the success in the Europe. They made a English version "Scream", including all the best songs from two former albums, and began to develop worldwide. They decided to visit Japan once. Unfortunately, it was canceled because of many reasons. After their first Japanese version album "Tokio Hotel"(2006) released, the last album "Humanoid" hasn't launched Japanese version until now. But now everything is ready, "Tokio Hotel in Tokyo" will finally come true.
I'm not telling a lie, I really have no girlfriend for almost 7 years.
--Bill?
Bill: Hi. We four are all here. Georg, Gustav and Tom.(The other three of them were saying"Hi",too.)
--Ah, you are all here. Hi~ What have you done this morning?
Bill: We took photos in Hamburg.
--By the way. Your band's name is Tokio Hotel. But you have never been to Tokyo, that's incredible. It's kind of pity, isn't it?
Bill: We haven't had a chance to go to Tokyo. But we have decided to visit Tokyo on December this year, we four are looking forward to it. It might be one of our goals to go to Japan, we talked a lot about visiting Japan, and it finally come true this year. It's unbelievable, we are really excited.
--Why that you didn't make it for so long? Is it because you're too busy?
Bill: I don't know. There are too many things have to be done in Europe, and we are to enter the United States and South America market at the same time, and Malaysia and Singapore as well. Now, the time was come. Our company and the other staffs have all said YES, after obtained the permission, the plan was set up.
--The fans of Japan have waiting for a long time.
Bill: We are glad that there are so many people loving us.
--It's said that the staffs of German television will come in the company of you to Japan as the ambassador of the memorial of diplomatic relations between Japan and Germany?
Bill: Ah? I didn't hear about that. Maybe it's true. But that our photographers will come with us that is sure. I don't know if you do know or not that Tokio Hotel TV will take our photographers to go together, which can let the fans all over the world experience our journey through the camera. So, maybe the photographers will go, if they do, that is what was called staffs.
-- Oh, I see. So, are everything going on well recently?
Bill: We are focused on the Latin American tour, the rehearsal is coming up. Ah, by the way, there's a new rehearsal room which is being built in Hamburg, so we have these things to be deal with as well. The rehearsal of Latin American tour has to be held in the new rehearsal room, and we will go to Japan after that. What a full schedule it is.
--I also heard that. I'm longing about it. But I heard that Bill and Tom will go to LA for the next album.
Tom: We will give a little show case in Japan.
Bill: Yeah. We are going to LA on the end of this month or next month. (Note: This interview was in a day of the middle ten days in October. )The details are not clear, but we are dying to go to LA.
--Have you started writing the songs of next ablum?
Bill: About the tunes, that have been written all the time. I summed some ideas up, and took the mini-laptop and small family acoustics with me wherever I went. So I could recorded something at any time. However, I can't use the new-made program completely, and haven't stepped into the studio. So, that two or three so-called new songs are still unfinished. Therefore, I don't know when they can be published as new album.
-- Have you decided that the next album will in English or in German?
Bill: That also haven't been decided. There were both two languages every times . Sometimes we made songs to suit the German lyrics, and also translate it into English. But now we are working English lyrics. I will be very happy to work the English lyric out because of my good moon. I was used to sing in my mother language, so I was afraid to sing in English at the beginning, it's hard for me. But now I have used to it, for me, singing in English and traveling all over the world are very happy things. So, Tom and I are working the English lyrics together . Still, it's hard to say that the next album will in which language.
-- About English, abuot two or three years ago in the interview of InRock , you were talking in German with the help of an interpreter . When did your English become so good, it's a big surprise.
Bill: I went to the USA, and stay a time in LA to learn English well, I think that's a good way to do that. But, you will know as you're listening that my English is still poor.
-- Not so, as a Japanese I cannot say something about it (laughs), but your English is really good!
Bill: Thank you. IF you can got used to this kind of language , confidence in yourself gradually, and place yourself in the crowd who speak English, which will get a good effect.
-- I see. Is there any difference between working the lyrics out in English compare with in German?
Bill: It's totally different. We noticed that when we recorded the early songs. It's difficult to translate the whole song into English, it takes too much time in the studio to do this, and I started to be agitated. Because no matter in German or in English, it must be the successful one. We can say we are perfectionist, I wouldn't stop working at it until it has been done if it was not perfect. Because of this, the recording work was very difficult and it expanded to worry at last. Well, I didn't know what to do on the future at that time. Like I just said, I'm enjoying when working songs for the English lyrics. And English, it's easier to write than to speak. They are different.
-- Maybe. So, what kind of songs are you writing? And what are you concerned with recently? Girls, or World peace?
Bill: The most important inspiration should be love. Love is all of life. The so-called love is not just limited to the relationship with girls, love is always around us. Therefore, inspiration is more important than anything else. Although saying so, but I have thought a lot of themes for the songs. Especially getting good timulation in the tour, which is very suitable for composing tunes. Besides, to meet a lot of fans in Asian countries, to act on the stage, these are inspirations, so no one can say that what kind of songs will be wrote out.
-- Love is always around us. Is it your faith?
Bill: Yes, it is. That's what I think. Especially as a member of Tokio Hotel. We always on the tour, it's very important to receive love from the people who we love, and the people who give their love to us. Fans, family or girlfriends. Although I don't have a girlfriend, but I still think that love is all.
--What? You don't have a girlfriend? Is that a lie which was arranged?
Bill: I'm not telling a lie, I really have no girlfriend for almost 7 years.(The other three of them burst into laughter.)It is kind of pitiful, isn't it? (laughs)
--ehm... I've looked your photoshot for a Italian magazine VOUGE, it's really beautiful. Do music and fashion always mutually promotive for you?
Bill: Yes, of cause, so far it always been like this. I really like to challenge to fashion, so does music. I like to put music and fashion together. When we were on the Europe tour, Dan and Dean from Dsquared (they are also twin brothers , please refer to
http://www.dsquared2.com/index.asp?tskay=0DB7BAF4
) designed gorgeous costumes for me. Fashion can also inspire me. When I compose or record, there is Particular situations, pictures or videos in my mind, then expand to both music and fashion impression. The photoshot for VOUGE is really wonderful. It may be one of my best photoshots until now. photoshot for VOUGE is always my dream. For me, Italian VOUGE is the best. It's my honor to do photoshot for this magazine.
--Now your hair is cut shorter, and you look like more vigorous. when the next album is released, will you change your look completely?
Bill: How will be I look like… at least this look makes me feel very natural in the studio. When we made last album, we went to Los Angels, Miami, and were also in the German studio. Cooperating with different producers in different countries can more or less bring us some inspiration. Of cause it affect my image, our songs and the atmosphere of our album. There is Science fiction atmosphere in the last album, so the style of my stage costumes Closes to that direction. It's expected how will be I look like next time. However, I don't like to make a plan beforehand, just want to develop in a natural way. So let's see. Considering this, into the studio is still very worth the wait.
Please say "Hello" to our Japanese fans
--Is there a possibility that you will not dress up like now but dress down in the future?
Bill: Ahh. Actually, I needn't make up and wear such weird clothes. Just follow your own feeling. I dressed up like that way because I wanted to be that. I hate hypocrisy. Wearing different clothes, with makeup on, a cool hairstyle, however if he/she just imitate others, it looks affected. No matter how, I only follow something deep inside, ever when I was at school. I grow up like this. So whenever, I am very natural. When I think "I don't want make up like this", then I don't do makeup. you should do what you really want to do, therefore you should take full confidence in yourself. So actually I don't know how will I look like in the next album.
--what kind of music do you listen recently?
Bill: when Tokio Hotel is on the tour, I don't listen any other music. It doesn't mean as a musician, I just want to focus on my own music. I like many kinds of music, as well as german band, for example, Bonaparte is a very cool band. I also like 80s' music. I'm a fan of Depeche and David Bowie. Besides, I like Aerosmith too. I really like many different kinds of music and musicians.
--Thank you very much.
Bill: Thanks. Please say "Hello" to our Japanese fans.