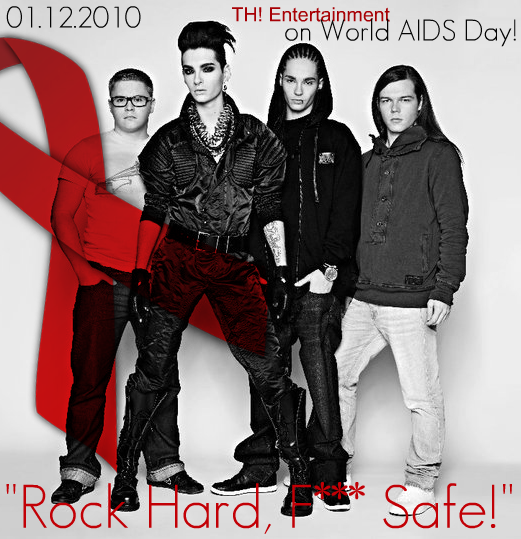 In conjuction of the day, we from the TH! Entertainment team would like you take a moment to just think...
..how the AIDS is a deadly poison to us causing million deaths in this world and yet the numbers kept multiplying each and every single day. As the young generations of today, we should take a high awareness on avoiding AIDS from being effected all over, at any cause!
Every one of us is desire to share and feel the love with that special someone but before you go too far on making a mistake that would turn your world upside down in the greatest regret that you can never rewind the time on changing the current scene..why not, take action! Be safe and protect yourself! Wear a condom as every protection you've made, counts! ;)
Don't make your loved ones lost something precious to them which is..
yourself :)
Hereby with, we would like to pay our respect to our lovely boys of Tokio Hotel who has done their part on supporting this cause with an association of Designers' Against AIDS! They truly care for us and the world but do their caring attention to the fans actually worth in every pieces? Well, we'll leave you guys to that part because only you, yourself would make the difference. As a Tokio Fan, as simple as ABC & 123, all you have to do is just remember the boys' tagline for AIDS, "Rock Hard, F*** Safe!"