OH MAN, I LOVE YOU CHERRYTREE RECORDS!
Forgive me for errors and anything stupid but I am typing this all on my iphone. I just came back from the TH NYC signing. As you know, I was one of the Cherrytree winners so Rai and I just expected to go in before anyone. But first I'll just say that on monday we were at Alexa Chung. That was cool, we saw them go in before the show and for their performance we were up front on Geo's side. Of course I was dying, as usual. Rai was busy molesting one of the body guards, though. XD

So for the signing. I was told to be at the front at 4pm, but we were there at 8am to be with our friends who slept outside since we'd originally planned to stay outside anyway. So 4pm came and a Best Buy employee brought us inside to wait downstairs. There were only 8 of us, so it was really cool. Martin from Cherrytree Records came and we all took photos with him. He was really nice, and I thanked him 284837272 times for having this contest. We all got free Cherrytree t-shirts and pins, a Humanoid poster and even an original record label copy of Humanoid, which was really awesome too.

After waiting for a bit, we were led to a room to wait as the boys took their press photos. We saw poor Gustav walk by because he was taken to the wrong place xD Rai and I had a nice chat with Martin again, a really long one actually. We kind of stole his attention because...well because he's cool lol xD

We took our photos with the band (two: one on our own cams and one on Ryan's cam. Ryan was the amazing man who got us able to take photos with the band.) and got our stuff signed before anyone else. I pretty much died. I honestly can not even describe it in any other way. This was my third signing, but because I was a winner, Rai and I got special treatment and it turned into more of a meet and greet than anything. It was ridiculously amazing and I am so thankful to Cherrytree right now. I was the winner of the LAST NYC contest, and I'm just so glad I was listening to CT radio in time. Basically......I am insanely happy. So happy. At the moment, I don't even care that I look like a cow next to Bill. Doesn't matter. I had my arms around Bill and Georg, and they had theirs around me. It was just....I'm dead. FYI...they smelled really good O_O

The past two days bring my TH Encounter (concerts, signings, tv shows, etc.) Count up to a...seventeen. I have been in their presence seventeen times. Holy s***.


Aaaaand here are the pics of me and the boys. I look like a cow compared to Bill but it seriously does not even matter right now. SNSDRTW5345E9DMF!!!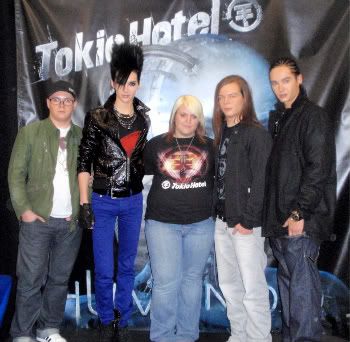 &the pic with Martin!