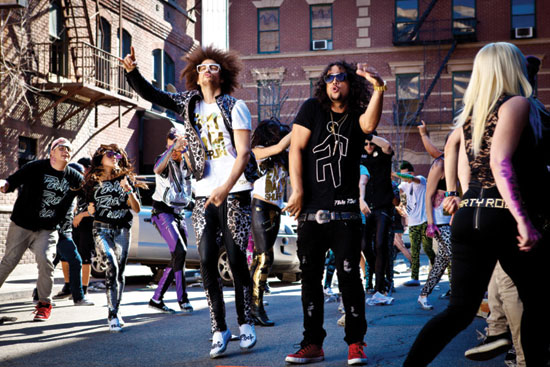 Describe your new single 'Champagne Showers'...
Redfu: "It's the ultimate party song. It's going to change the way that people view champagne. At the moment it's quite a dignified drink, but we want people to start spraying bottles of the stuff. It's not even about the alcohol, it's about the physical act of spraying it."

You're releasing it quite soon after 'Party Rock Anthem'; were you worried about being labeled a novelty act?
Redfu: "It's to show the world that 'Party Rock Anthem' is one of many good songs we have to offer. Even though we've released a few singles before it, we don't want to become a novelty act to the new people that we've reached. 'Party Rock' is very pop song."

Did you expect the worldwide success of 'Party Rock'?
Redfu: "We made a decision for that to be the first single from the album for the very reason that we thought it could be a number one song. It's a song that is quite unique as it's a party track that actually talks about how to party. It's like an instruction to dance. We were excited about it when we first finished it, especially as it took over year to make."
Check out the full interview on DigitalSpy.co.uk