do you have fanaction for your own country that you can't find here? tell me please and i'll spread the world with !
AND ENJOY THE MOMENT!!!!!
BELGIUM:
Le Fan Club Officiel Belge de Tokio Hotel vous invite à participer à la troisième action qu'il organise à l'occasion du concert bruxellois du "Welcome to
Humanoid City Tour" qui se tiendra au Forest National le 25 février
2010.
Brandissez vos téléphones portables allumés en
l'air, écran illuminé vers la scène, pendant la chanson
Human connect to Human (Menschen suchen
Menschen).
Grâce à vous tous, nous espérons donner une réponse interactive à
la question posée par Bill, Georg, Gustav et Tom: How can I connect
to you? (Wie Krieg' ich kontakt zu dir?).

Official Belgian Fan Club of Tokio Hotel & THA4 Crew
Fan Club Website : http://www.tokiohotel-belgium.net/
THA4 Blog : http://tokiohotel-belgium.skynetblogs.be/

Vampire G
pour le FC Officiel Belge
Der Offizielle Belgische Tokio Hotel Fanclub ladet euch ein bei der dritten Aktion des Fanclubs mitzumachen, die während des "Welcome to Humanoid City Tour" Konzerts in Forest
National am 25. Februar 2010 stattfindet.
Haltet eure eingeschalteten Handys mit dem leuchtenden
Display (der leuchtenden Seite) während des Songs
Human connect to Human (Menschen suchen Menschen)
Richtung Bühne.
Danke euch allen! Wir hoffen damit eine interaktive Antwort auf die
Frage zu geben, die Bill, Georg, Gustav und Tom uns stellen: How
can I connect to you? (Wie krieg' ich Kontakt zu dir?)
The Tokio Hotel Official Belgium Fanclub invites you to take part in the third action which will be organized for the "Welcome to Humanoid City Tour" concert in
Brussels on February 25th 2010 in Forest National.
Keep your mobile phone switched on up in the air,
with the lighted display screen facing the stage, during the song
Human connect to Human (Menschen suchen
Menschen).
Thanks to all of you, we hope to give an interactive answer to the
question raised by Bill, Georg, Gustav & Tom: How can I connect
to you? (Wie krieg' ich Kontakt zu dir?)
L'information est
disponible sur le site web du magazine belge Ciné Télé
Revue.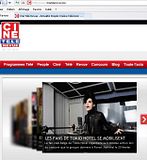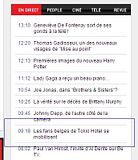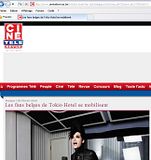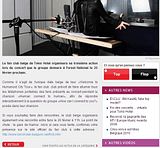 Source
:
http://www.cinetelerevue.be/fr/tokio-hotel-fan-club-belgique.html?c...
GERMANY:
Fanaktion Oberhausen: Knicklichtermeer
Donnerstag, den 18. Februar 2010
Zum ersten Deutschlandkonzert der "Welcome to Humanoid City"-Tour am 26.02.2010 in der König-Pilsener-Arena in Oberhausen darf eine
Fanaktion von euch für euch natürlich nicht fehlen. Deswegen haben die
Oraganisatoren sich eine dreiteilige Aktion für dieses Konzert überlegt.

"Komm / Noise"

Gleich zum Opening-Song des Konzerts ist ein "Ballonmonsun" geplant.
Die dafür benötigten Ballons werdet ihr von den Verteilern der Aktion
in der Halle erhalten. Selbstverständlich müsst ihr die Ballons
aufpusten, bevor ihr sie schließlich bei diesem Song von den
Sitzplätzen hinunter zu den Stehplätzen werft.

"Lass uns laufen / World Behind My Wall"

Die Aktion zu diesem Song ist gleichzeitig die Hauptaktion und
Namensgeber, denn hier soll die Halle in ein einziges Knicklichtermeer
verwandelt werden. Die Knicklichter wurden bereits besorgt und werden
vom Fanaktion-Team zusammen mit den Ballons in der Halle an all
diejenigen und euch verteilt, die einen Sitzplatz haben. Während des
kompletten Songs sollen die Knicklichter hochgehalten werden und nur
die "Ohohoh's" mitgesungen werden.

"Zoom / Zoom Into Me"

Bei "Zoom / Zoom Into Me" soll die ganze Halle schweigen und weder
gekreischt noch mitgesungen werden, damit die richtige Atmosphäre für
diesen doch sehr ruhigen Song geschaffen werden kann.

Das sind die Aktionen, die für das Konzert in der König-Pilsener-Arena geplant
sind. Solltet ihr noch Fragen zu der Aktion haben oder wollt ihr diese
noch ganz spontan unterstützen, dann habt ihr mehrere Möglichkeiten mit
den Organisatoren in Kontakt zu treten. Besucht dazu einfach die
Homepage der Aktion oder schaut im Oberhausen-Fanaktion-Thread hier bei
uns im Forum vorbei.

Homepage der Fanaktion Oberhausen

Fanaktion Oberhausen Thread

Allen Besuchern des Konzerts in Oberhausen wünschen wir schon jetzt ganz viel Spaß an diesem Abend.
AUSTRIA:


Die Fanaktion des offiziellen österreichischen Fanclubs zum Konzert
am 30.3.2010 in Wien:

RAUMSTATION WIEN!

Aufgepasst! Wir werden die Wiener Stadthalle bei dem Song
"Alien" in ein großes
Weltraumkonzert verwandeln! Dazu muss praktischerweise NIEMAND was
mitnehmen – alles wird vor Ort ausgeteilt!
Die Aktion besteht aus zwei Teilen:

Die Sitzplätze bekommen diese Knicklichter:


Diese werden dann beim Song geknickt und da die Sitzränge in der
Stadthalle ja wie ein großes U um die Bühne gehen, haben wir dann
einen grün leuchtenden Kreis oben in der Halle – ein UFO
sozusagen!

Bei den Stehplätzen kriegt jeder einen grünen Zettel, auf dem
folgendes Aliengesicht draufkopiert ist:


Wenn wir dann alle beim ersten Refrain von "Alien" die
Zettel ein Stück hochhalten, wird's dann so
aussehen, als ob oben die Raumstation grün schimmert und unten im
Parterre ein Haufen Aliens steht. (Kommt sicher ur super, wenn die
Jungs ins Publikum gucken und zig tausend blöd glotzende
Aliengesichter sehen. )

Das alles ergibt sicher ein sehr geiles Bild, aber um das alles zu
ermöglichen brauchen wir EUCH! Denn nur
zusammen können wir die Stadthalle zumindest für einen Song lang in
eine Raumstation verwandeln und den Jungs einen unvergesslichen
Moment bescheren!

Le blog de l'action

Source
: FC Officel Autriche


Traduction
anglaise

SPACE STATION VIENNA!

Watch out, we're gonna transform the Stadthalle in Vienna into a
huge space-concert during the song "Alien"! The awesome
thing is, that none of you will have to bring anything for this
fan-action - everything you'll need will be given to you in front
of the venue on the day of the concert!

The fan-action consists of two individual parts:

Those of you, who have SEATING-TICKETS, will get those
neon-sticks:

You'll hold them up during the song and since the
seating-arrangement in the Stadthalle looks like a giant "U", there
will be a glowing, green circle in the venue - like an UFO!

If you have a STANDING-TICKET, you'll receive a green sheet of
paper that has an Alien-face printed on it. It will look like
this:

If we all hold up our Aliens during the first chorus of "Alien",
it'll look like there's an army of Aliens standing in the audience
with a green UFO flying over them. (We bet it's gonna be an awesome
sight to have the boys look into the audience and see nothing but
Alien-faces staring back at them! ;D)

It's gonna look awesome for sure but to achieve this, we need YOUR
help! Only with your help, we can transform
the Stadthalle into a space-station for one song and with that let
the boys have a special moment for sure!

Le blog de l'action
Traduction
française
STATION SPATIALE A VIENNE!
Faites attention, nous allons transformer la salle polyvalente de
vienne en un énorme concert spatial pendant la chanson "Alien"! Ce
qui est génial c'est qu'aucun d'entre vous ne devra apporter
quelque chose pour cette fan-action - tout ce dont vous aurez
besoin vous sera donné devant la salle le jour du concert!
La fan-action est composée de deux parties individuelles:
Ceux d'entre vous, qui ont des TICKETS ASSIS, recevrons ces bâtons
en néon:
Vous les lèverez en l'air pendant la chanson et les places assises
ressembleront dans la salle à un "U" géant , il y aura un éclat de
lumière, des cercles verts dans la salle - comme un OVNI!
SI VOUS AVEZ DES TICKETS DEBOUT, vous recevrez une feuille de
papier verte sur laquelle sera imprimé un visage d'alien . Ça
ressemblera à ça :
Si nous levons tous nos aliens pendant le 1er refrain d'Alien, ce
sera comme s'il y avait une armée d'aliens debout dans la salle
avec un OVNI vert volant au-dessus d'eux. (Nous parions que ce
donnera une superbe vue quand les garçons regarderont dans le
public et ne verront rien à part des visages d'aliens en train de
les dévisager! ;D)
Ça va être génial bien sûr mais pour accomplir ceci, nous avons
besoin de TON aide! Nous
pourrons transformer la salle en une station spatiale pour une
chanson et avec ça permettre aux garçons de passer un moment
spécial, bien sûr, seulement si vous nous aidez!
SWITZERLAND :



Der offizieller Schweizer Fanclub in Zusammenarbeit mit dem
offiziellen deutschen Fanclub ist froh euch die Aktionen für die
31.03.2010 im Hallenstadion in Zürich vorstellen zu können!

- "Zum Geburtstag viel Glück Georg!": So feiern wir der Geburtstag
unseres Bassisten, der dieses Jahr 23 wird!

Um dies zu unterstreichen sollten alle Personen auf den
Sitzplätzen, zwei Luftballons haben: während der ersten Pause
zwischen den Liedern singen wir zusammen: "Happy Birthday" an Georg
und werfen die Luftballons runter zu den Stehplätzen.

- Blitz&CD's: Während des ersten Refrains von "Sonnensystem"
ziehen wir unsere Handys, Kameras und CDs hervor und beleuchten so
das Hallenstadion für Bill, Tom, Georg und Gustav, was dan wie ein
Sternenhimmel wirkt.

[*Passt auf, damit sich niemand mit den Cds verletzt!]


Also Leute, seid ihr bereit für das grosse Konzert???

Der Schweizer Fanclub


Blog de l'action

FC Officiel
Suisse



Le FC Officiel Suisse en collaboration avec le FC
off Allemand est heureux de vous annoncer les actions prévues pour
le 31 mars 2010 au Hallenstadion à Zurich!


- "Joyeux anniversaire Georg!", Fêtons l'anniversaire de
notre bassiste préféré qui fêtera ses 23 ans!
Pour cette action, tous ceux qui seront assis en gradins devront se
munir de ballons. Pendant la première "pause", entre 2 chansons,
toute la salle devra chanter "Happy Birthday" à Georg et les fans
en gradins devront lancer les ballons !


- Flash&Cd's: Durant le premier refrain de
"Sonnensystem" sortez vos portables allumés, flash d'appareils
photo et CD .. Illuminons l'Hallenstadion comme un ciel étoilé pour
Bill, Tom, Georg et Gustav!


Plus d'informations sur notre website http://www.thlive.ch

Alors les fans, vous êtes prêts ???
SWITZERLAND:
Bonjour à toutes et à tous !
Je vous présente le TH-CH 2

Une
action simple à réaliser et efficace visuellement !
L'action pour Genève le 3 avril prochain est simple, elle consiste
à vous faire un gros
H
sur la main ou une page A5
(pas plus grand), ou encore un mouchoir (H comme Humanoid) et tous
le lever
Human connect to Human/Menschen suchen
Menschen
Maintenant reste à faire connaitre l'action auprès de tous ceux qui
viennent au concert le 3 avril, donc faites passer l'info partout
et ces prochain jours des blogs seront ouverts pour l'actions de
Genève !
Je compte sur votre aide à toutes et tous pour faire passer l'infos
sur un max de forum, blogs, site, etc !
Et comme pour pratiquement chaques concerts, n'oubliez pas
de crier TOM au lieu de KOMM sur la chanson "Komm" (uniquement si
celle-ci est intérpretée en allemand) !
En attendant n'hésitez pas à visiter notre
site
et à vous inscrire sur notre
forum
(choisissez la
langue qui vous convient) !
FRANCE:
Action soutenue par le FC Officiel Français
Hello tout le monde. Projet-bercy reprend du service. Lors du concert de Tokio Hotel à Bercy le 09 Mars 2008, nous
avions organisé une grosse fan action (LES DANKE).
Cette année nous avons décidé de revivre un concert inoubliable en
votre compagnie.

Explications : On s'est posé une question : Pourquoi ne pas refaire
un projet .. Pour le 14 Avril à Bercy ?? Pour ça
on a besoin de vous et de votre motivation !! Nous
voudrions imprimer 17 000 feuilles avec pour message
"WIR LIEBEN EUCH" (= NOUS VOUS AIMONS). Pourquoi
ce message ? tout simplement pour leur montrer que nous sommes
toujours aussi présents malgré un an et demi d'absence, parce que
nous sommes toujours aussi motivés pour leur faire plaisir et
passer un bon moment (concert) avec eux, mais aussi revivre tout
simplement un moment magique et mémorable ensemble. C'est pourquoi
nous vous demandons (vous ou vos parents ou n'importe qui d'autres,
fans ou pas fans) d'imprimer le plus possible le modèle (dispo sur
notre blog www.projet-bercy.skyblog.com).


NOUS AVONS BESOIN DE VOUS POUR MENER À BIEN CE PROJET, MAIS AUSSI DE VOTRE
MOTIVATION, DE VOTRE VOLONTÉ ET SURTOUT DE VOTRE SÉRIEUX ET VOTRE
SOUTIEN.

Deby & Mow

Certaines personnes nous ont fait remarquer que notre projet n'était pas très écologique et c'est VRAI, nous avons
donc décidé de PLANTER 4
ARBRES qui représentent les 4 membres de TH. Nous tenons à
préciser qu'un arbre sert à produire 12 500 Feuilles en moyenne
(cela dépend de son diamètre ainsi que du poids et la taille de la
feuille à produire). Nous avons besoin de 17 000 feuilles soit un
peu plus d'un arbre et nous
replantons à peu près 3 fois ce que nous utilisons à la
base. Petite info
: Les frais engagés pour cela sortent
de notre poche donc merci de garder vos éventuelles
critiques.
Hello everybody.

Project-bercy

is back. For the concert
of Tokio Hotel in Bercy (March 9th
2008), We had organize a big fanaction (the

DANKE

written on a paper). This year we
decided to live again an unforgettable concert in your
company.

Explanations : we asked us a question : Why don't we do a project
again .. On the

April 14th


in Bercy (Paris) ?? For that we need you and your motivation !!
We would printing 17 000
paper with the message "WIR
LIEBEN EUCH" (= WE LOVE YOU). Why this message ? Just to
show them that we are always here despite a year and a half of
absence, because we are still motivated to please them and to have
a pleasant time (concert) with them, but also to live again a
wonderful and memorable moment together. That's why we ask you (you
or your parents or somebody else, fan or not) to print the papers
as fine as possible (model on our blog www.projet-bercy.skyblog.com).
WE NEED
YOU TO BRING TO A SUCCESFUL CONCLUSION THIS PROJECT , YOUR
MOTIVATION, YOUR WILLPOWER TOO AND ABOVE ALL YOUR SERIOUSNESS AND
YOUR SUPPORT.
Some people sais us that our project
wasn't very ecologic and it's RIGHT, so we decided to

PLANT 4 trees

which represent the 4
members of Tokio Hotel. We specify that a tree produces on the
average 12 500 papers (it can change with the diameter, the weight,
the height of the paper to product). We need 17 000 papers so it
makes a little more than a tree and we plant again approximately 3 times what we
used to the beggining.
A little information : We pay to do it so thank you to keep your
critics for you.