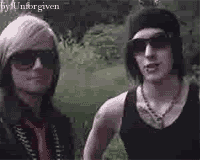 Hi! The bands I love here at Cherry Tree Records are Tokio Hotel, Cinema Bizarre, Lady GaGa, and Space Cowboy. My favorite songs from these people are:
Tokio Hotel
Monsoon
Live Every Second
Scream
Ready, Set, Go!
Cinema Bizarre
Get off
Forever Or Never
Dysfunctional Family
It's Over
Love Songs (They Kill Me)
Angel In Disguise
Lady GaGa
Poker Face
Love Games
Space Cowboy
Falling Down
(The Ones In Bold Are My Number One Favorite From The Band)
I am a very difficult person to get along with, but once you get to know me, I am the most loyal friend you could ever have.
I can be very hyper sometimes, but most of the time I'm quiet and secluded. I dress and look very different than everyone else. Right now, I have black hair with purple, pink, blue, and green highlights. That pic of me up there is an old pic.
I think that about covers it...yes? ^^